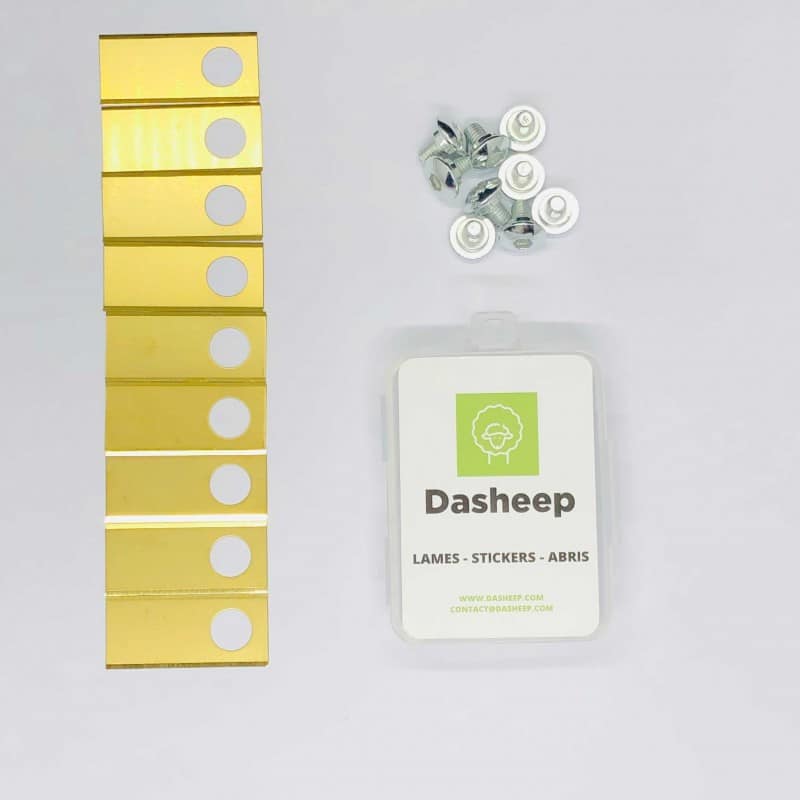 Blades for Honda Miimo robot mower - titanium set of 9 blades
9 titanium blades for Honda Miimo robotic mowers. 9 coated replacement screws. 1 re-sealable storage box. These blades last up to 3 months.
These blades are coated with titanium which gives them a distinct golden colour. This will keep the blades sharp for longer. The blades are made of 0.6 mm titanium which makes them very strong. The blades are sharpened on both sides, top and bottom, which makes for an even better result. 

Free shipping

Secure payment

French company
Description
Fits the model : 
- Honda Miimo 300
- Honda Miimo 310
- Honda Miimo 500 
- Honda Miimo HRM 300
- Honda Miimo HRM 310
- Honda Miimo HRM 310R
- Honda Miimo HRM 500
- Honda Miimo HRM 520
- Honda Miimo HRM 3000


Veuillez noter ! Les Honda Miimo HRM 40 (live) et HRM 70 (live) utilisent un type de lame différent.
Buy with confidence
Order on a perfectly secure site, we are at your disposal.

Free shipping and delivery
A shipment in less than 48h when the product is in stock.

Secure payment
Data encryption, reliable and secure payment

Customer service
A contact person at your disposal for any help on the site or on your order.
In the same category
7 other products seleted for you