Discover the 16 products Husqvarna robotic lawn mower blade.
Our spare blades for robot lawn mower Husqvarna
Nevertheless, the way these particular mowers work requires regular maintenance. Given their limited power that guarantees low power consumption - so a light battery and a fairly short charging time - these mowers use very sharp blades, such as razor blades.Thanks to this sharp edge, the grass is cut very easily and silently. That being said, maximum effectiveness is achieved by pruning the grass regularly, before it grows back too much and thickens. You will probably have to mow the lawn every week, but it is your Husqvarna robot that will take care of it while you can go about your business or relax. They work even in the rain and, thanks to our shelters - that you will find on our website - they can recharge safely. You will therefore understand that the blades must remain as sharp as possible, otherwise the mower will discharge faster or will no longer be able to ensure the same quality of mowing. Like all professionals in the industry, we recommend changing Husqvarna robot blades several times a year. The exact number depends on the area of land to be maintained and the type of grass to be cut (thin, thick, greasy, dry). A replacement every three months should, as a general rule, be enough to ensure the optimal operation of your Husqvarna robot lawn mower
Replacing Husqvarna robot lawn mower blades is very easy
Replacing Husqvarna robot lawn mower blades is very easy
Normally, you will maintain your robot with some regularity - for this it only takes a simple brush to rid it of grass residues and dust. In this way, dirt will not hinder the proper functioning of your device. Be aware that replacing robot lawn mower blades is also very simple, provided you take a few logical precautions: just put on a pair of protective gloves to prevent you from cutting yourself while handling the Husqvarna robot blades, and, above all, turning off the robot. The only tool to handle is the screwdriver: remove the screws that hold the worn blades in place, remove the blades, install a new blade, put the screws back, and voila! The operation lasts only two minutes.
Ensure the longevity of your Husqvarna robot lawn mower with our range of blades*
In our assortment you will find several types of blades depending on your Husqvarna robot lawn mower models and the use you make of them. Thanks to our selection, all your needs are covered and you can let your automatic mower take care of your garden in peace, and tranquility! Husqvarna robot lawn mower blades are available in packs containing many parts - in multiples of 3 since Husqvarna robot lawn mowers use three blades.By purchasing a pack, you will be guaranteed to be able to maintain your mower for more than a year, even two. Some Husqvarna robot lawn mower blades are more durable than others, especially those with titanium coating. In a few clicks on our website you will access our selection of products made by serious experts. Delivery is very fast, which makes it possible to cover pressing needs in case of wear of blades at the wrong time. 
Don't forget to check out the list of our mower shelters, or decorative stickers to customize your robot and give it a personality!
We offer a wide range of blades for Husqvarna robot lawn mowers such as Husqvarna 450X robot blades or blades for Automower 310.
What is the best blade for Husqvarna robot lawn mowers?
For good mowing, the robot lawn mower must be properly maintained. And this involves replacing the blades. The Husqvarna robot lawn mower is known for its resistance, but for it to be so at all times, it is necessary to regularly change its blades. So what is the best blade to choose for your Husqvarna robot lawn mower? Find out in the next lines.
Choosing solid blades Husqvarna robot lawn mowers are known for their performance. And to maintain it, its blades must be changed regularly. It is recommended to choose blades that have a very high strength. Indeed, your robot can be confronted with forgotten objects (toys, large dead branches, stones, etc.) in the grass that will destroy the blade if it is not of quality. In addition, weak blades will not be able to offer you the mowing you want. In addition, solid blades for your robot lawn mower will allow you to avoid the risk of an incident. That is, when the less solid blade breaks, it could leave debris in the grass, which is risky for a four-legged child or an adult who decides to walk barefoot.
The types of blade to choose for your Husqvarna robot lawn mower
If you are still wondering what is the best blade for Husqvarna robot mowers here are two types that will satisfy you. A distinction is made between conventional stainless steel blades and titanium carbide treated steel flooring blades.
Conventional stainless steel blades are the most used because of their affordable cost to all. They also offer a good result. Titanium blades for robot lawn mowers are more expensive but more resistant. If you have the right budget, it would be better to buy it. It is very sharp and offers you a result in a very short time.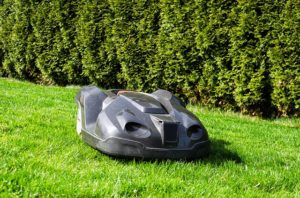 When to change the blades of the Husqvarna robot lawn mower?
There are countless criteria to consider when determining which is the best blade for Husqvarna robot lawn mowers. And it is on this basis that a wise choice can be made.
The price
Price is undeniably a criterion by which you will choose the best blade for your robot. Thus, it is advisable to pay attention to the price of Husqvarna blade too low. These robot lawn mower blades are usually expensive, especially Husqvarna robot lawn mower titanium blades.
The cutting quality of the blade
The blades of the Husqvarna robot lawn mower are usually very strong, sharp and are able to cut the hardest grass. So, pay attention to its resistance before any purchase.
Blade compatibility
Before you buy your blade, you need to make sure that it is perfectly compatible with your robot. Since there are specific blades for each Husqvarna robot lawn mower. 
This will allow you not to make mistakes and thus preserve your money.
The longevity of the blade
Blades obtained at a lower cost wear out faster than others. Then you need to ensure that your blade is solid and of impeccable quality. Thus, you can use it for up to at least 3 months before it shows signs of wear.
The surface to be mowed
An essential criterion for choosing the blade of your Husqvarna robot lawn mower is not to neglect the surface to be mowed. There are some surfaces that are indeed easier to mow than others because of the type of herbs that are there. And so depending on these herbs, you will choose blades made of conventional stainless steel or titanium blades for robot lawn mower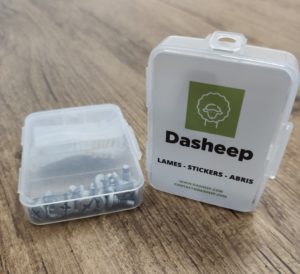 When to replace the blade of your robot lawn mower?
The question is often forgotten, but it is of paramount importance if you want to have a perfectly mowed surface. Not to change your blades even for reasons of economy would be to let the machine weaken. Indeed, over time, the blade degrades and no longer gives an expected result even if you sharpen it. Which is also not recommended. 
How to change the blades of the Husqvarna robot lawn mower?
Changing the blades of the Husqvarna robot lawn mower is very simple if you know how to do it. You will just need a Phillips screwdriver in order to remove and put back in place the screws of the mower. But before that, you need to turn off the robot and put on gloves as a precaution. The installation of new blades will only take a few minutes and your Husqvarna robot lawn mower will be functional again.